1 March – 5 May 2019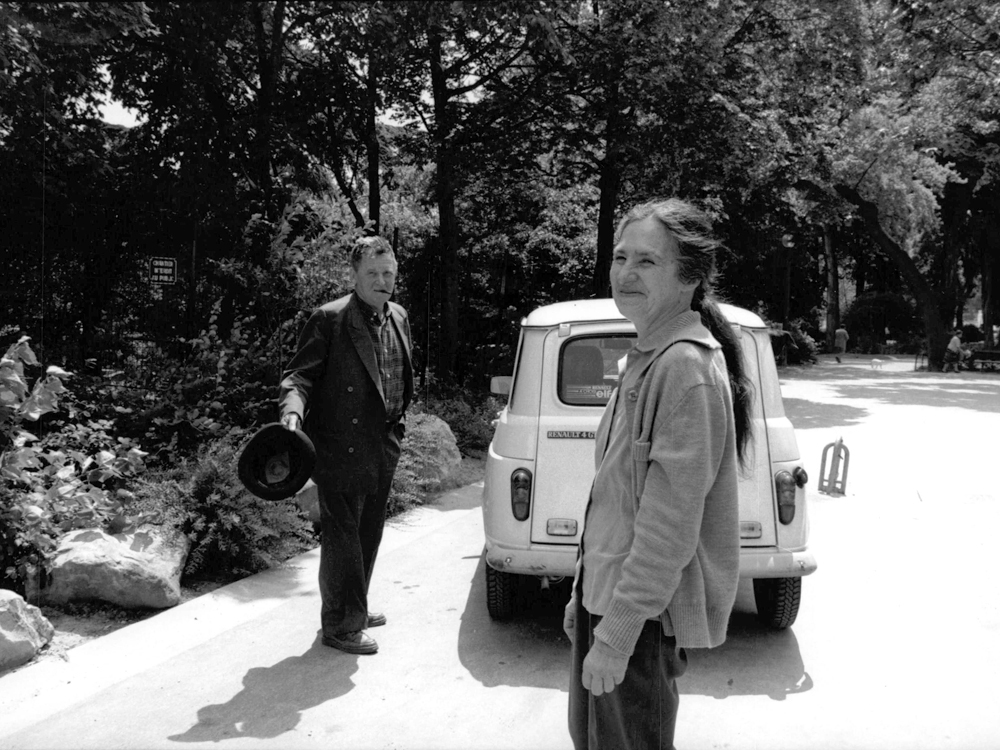 Danièle Huillet and Jean-Marie Straub directed twenty-eight feature films in their fifty-two years of shared life and work, creating an oeuvre that is one of the most unique and uncompromising in modern cinema. Their vast filmography is as diverse as the material that served as the bases of many of their narratives, including writings by Brecht, Hölderlin, Duras, Kafka, Pavese and Vittorini, as well as music by Bach and Schoenberg. Straub and Huillet often reinterpreted forgotten or overlooked classical works, investing them with a renewed polemical relevance. Their films bring stories of class struggle and resistance to the surface, examining post-war power relations and offering a critique of capitalism throughout history and across linguistic and territorial borders. Created with intense rigour, beauty and political commitment, each of their deeply inventive films demands our full attention at every moment, presenting cinema as something both surprising and necessary.
Straub and Huillet's films reflect the couple's creativity and generosity, their solidarity with their collaborators, and their respect for language and nature. Critic Louis Séguin wrote that Straub and Huillet 'belong to a non-hierarchical and frontierless clan of rebels, stateless persons and social misfits, and the challenge of their cinema matches this permanent irreducibility.'
Despite the importance and influence of their work, Straub and Huillet's films are still largely inaccessible. With this major retrospective – the first in the UK since the early 1990s – Straub and Huillet's work will be presented in all its richness and complexity. Over three months of screenings across several London venues, the programme includes over forty-seven films and shorts directed between 1962 and 2018.
The retrospective will open at the ICA on 1 March with the UK premiere of Straub and Huillet's adaptation of Schoenberg's comic opera From Today Until Tomorrow (1996), and Straub's latest film, People of the Lake (2018).
Screenings at the ICA will continue in the second half of March with a short run of one of Straub and Huillet's most influential films, Too Early, Too Late (1980 – 81), an investigation into history, land, class struggle and colonialism.
The ICA will host over ten films, including two series shot in Italy between 1979 and the early 2000s, based on the writings of Communist and anti-fascist writers Cesare Pavese and Elio Vittorini, including the much-loved Sicilia! (1998). Also showing will be Portuguese director Pedro Costa's documentary about the editing of Sicilia!, Where Does Your Hidden Smile Lie? (2001). One of Straub and Huillet's most important films, Workers, Peasants (2000), about a community formed after the Second World War, will be shown over two screenings. Whenever possible, films will be screened in their original format. A series of talks and workshops will also accompany the programme, details of which can be found on individual event's listings.
For information on all events taking place as part of The Films of Jean-Marie Straub and Danièle Huillet, please visit the
Goethe-Institut
website.
Programme
Friday 1 March
A wildly original reading of Schoenberg's rarely performed one-act comic opera from 1929.
Friday 1 March
This compilation of sequences from Straub and Huillet's previous films explores resistance to forms of violence and oppression.
Tuesday 19 March
Straub and Huillet's 'Too Early, Too Late' is followed by two shorts which explore class struggle, resistance and activism.
Thursday 21 March
Straub and Huillet's 'Too Early, Too Late' is followed by two shorts including 'Jackals and Arabs', based on an allegorical short story by Kafka.
Sunday 24 March
Shot in France and Egypt, this investigation into history, class struggle and land uncovers the traces of past revolts.
Sunday 31 March
Straub and Huillet's two-part reflection on time, myth and resistance, based on novels by Cesare Pavese.
Saturday 6 April
A series of dialogues between the Greek gods about fate, love and mortality, set in the Tuscan landscape.
Saturday 6 April
Four shorts by Jean-Marie Straub based on Cesare Pavese's retelling of Greek myths, 'Dialogues with Leucó'.
Tuesday 23 April
A bold interpretation of Elio Vittorini's 1930s anti-fascist novel, 'Conversations in Sicily'.
Thursday 25 April
Pedro Costa's admiring portrait of Straub and Huillet, filmed during the production of 'Sicilia!'
Friday 26 April – Sunday 5 May
In the aftermath of the Second World War, a community of workers and peasants attempt to rebuild their daily lives.
Saturday 27 April
A diptych based on Elio Vittorini's novel 'The Women of Messina' about a post-war community of workers threatened by the forces of history.
Saturday 4 May
A bold interpretation of Elio Vittorini's 1930s anti-fascist novel, 'Conversations in Sicily'.