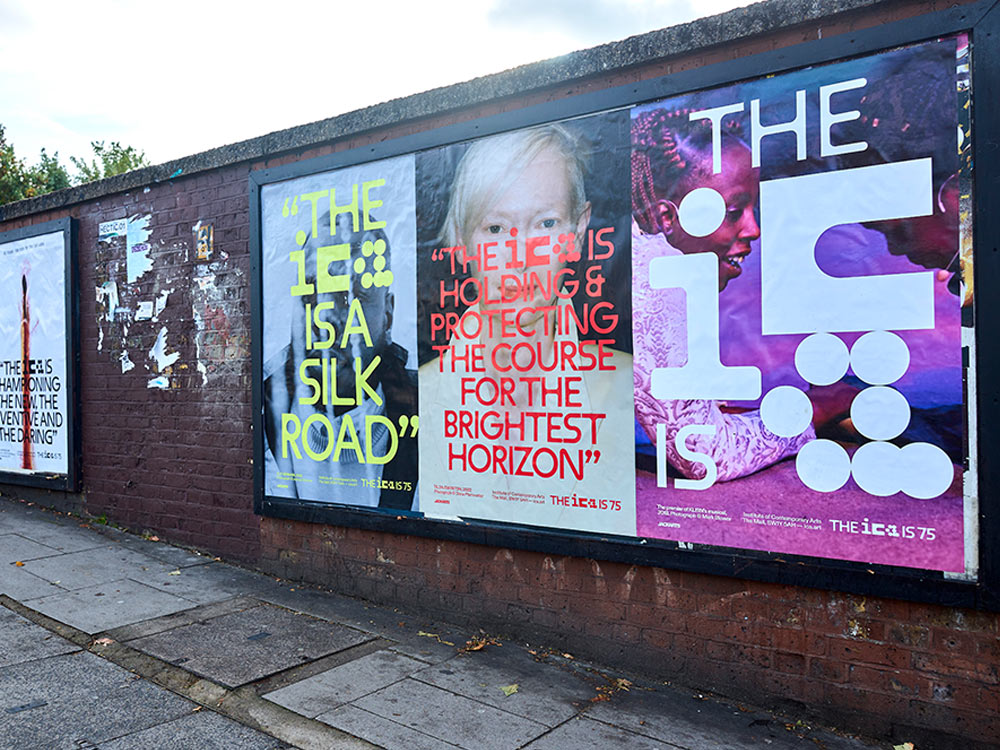 The Institute of Contemporary Arts is much more than a museum. Since its inception in 1947 as the first truly multi-disciplinary arts organisation, the ICA has always been a progressive, alternative, and a safe place for artists who are looking beyond the mainstream: the ones who are willing to go beyond the status quo, and those who take risks and defy definitions. Today, the ICA remains at the heart of contemporary culture in London, commissioning, producing, and presenting urgent new work in film, music, performance, digital art, and the visual arts, by the most vital and provocative artists of our time.
Exactly 75 years after the ICA was officially founded, the ICA has partnered with creative street advertising specialists Jack Arts, part of BUILDHOLLYWOOD, on the launch of The ICA Is, a new testimonial campaign.

There is no one statement capable of putting into words everything that the ICA is, so rather than trying to define the indefinable with a single campaign line, artists, audiences, and staff members have told the ICA what the institution means to them.

These statements, along with visuals from the ICA's archive that highlight iconic moments from its history, make up the campaign. Together with a new distinctive logo and fonts, created especially for the occasion, the campaign will be visible throughout the streets of London as part of a year-long poster campaign, as well as on ica.art, Facebook, Instagram, and Twitter, using the hashtag #ICA75. The campaigns distinctive and bold identity conveys fun, playfulness, and a sense of humanity, ensuring the artists always takes centre stage.

What's also important is that this is just the start. Over the next year, we'll see a whole plethora of new statements and events that build an ever-evolving picture of what the ICA is.
Part of the ICA 75th Anniversary Season