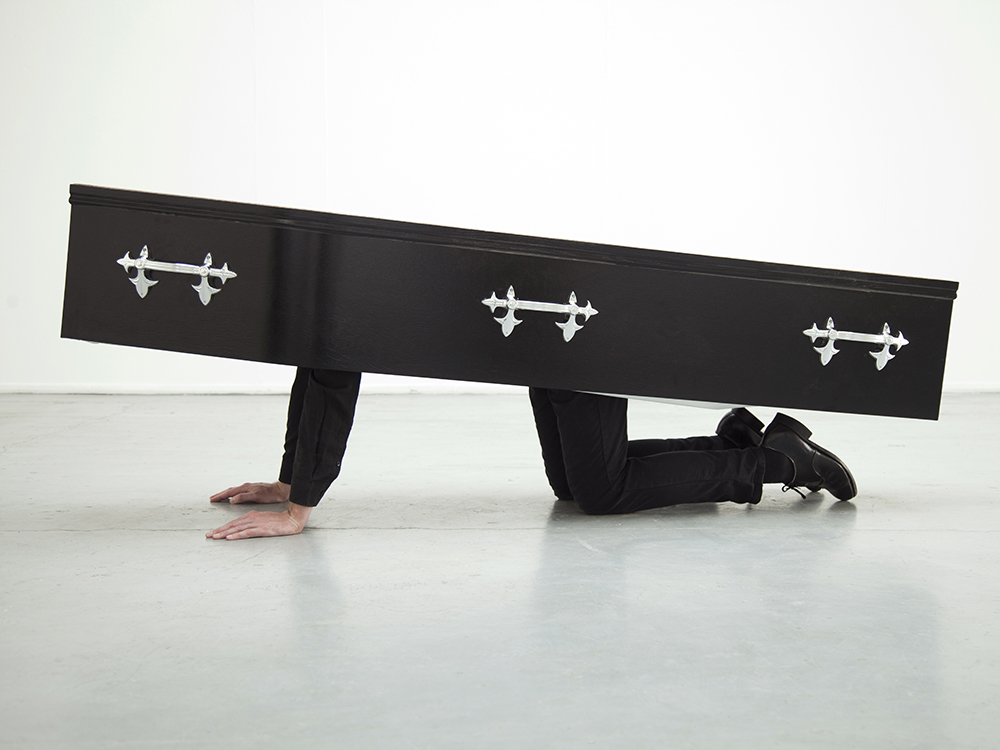 The coffin is sealed shut; the faint sound of coughing can be heard from inside, ringing out through the night. In another place, a group are meeting. The Last Breath Society gather to breathe together, to mourn their own life and rehearse for the inevitable.
Martin O'Brien was born with a life shortening disease and recently surpassed his life expectancy – as such he is living in 'zombie time'. The Last Breath Society (Coughing Coffin) continues Martin's exploration of mortality through physical endurance, duration and pain based practice, considering the act of 'waiting' as a mode of survival. Martin has gathered a society of sick queers, old queens and others thinking about death, to wait together in a room full of coffins. The performance will develop over a series of eight days to explore how we wait for death. Each day, the performance will use the remnants of the previous in a growing and changing installation. Come and join the Last Breath Society and resist the loneliness of decay.
The Last Breath Society (Coughing Coffin) is a living installation and exhibition, featuring daily durational performances by Martin O'Brien and a series of 10 commissioned video works by Franko B, Ansuman Biswas, Rocio Boliver, Noëmi Lakmaier, Lechedevirgen Trimegisto, Joseph Morgan Schofield, Kira O'Reilly, Sheree Rose, Shabnam Shabazi, and Nicholas Tee.
Book to access
02:00 pm
Thu, 29 Jul 2021
Theatre
02:00 pm
Fri, 30 Jul 2021
Theatre
02:00 pm
Sat, 31 Jul 2021
Theatre
02:00 pm
Sun, 01 Aug 2021
Theatre
£8 Full, £6 Concs, £4 Green/Blue Members.

Saturday 24 July to Sunday 1 August, 2 – 8pm (Closed on Mondays)
Martin's performance actions will begin at 4pm each day.
Capacity is limited for the performances and audiences are welcome to come and go through the space as they please during their visiting day.

We ask that audience members wear face masks, unless exempt.
To view the films in the installation with sound, please bring a pair of jack headphones. We will also have a limited number of headphones with disposable headphone covers if needed.
Access Information:
You are free to come and go from the Theatre space. The theatre has level access. This installation is standing with some seating available should you need it.
No audience members will be asked to participate or respond on the spot during this installation.

No audience members will be touched by performers during this installation.
Actions will include temporary body modifications.